The ferocious Tyrannosaurus rex has been depicted as the top dog of the Cretaceous, ruthlessly stalking herds of duck-billed dinosaurs and claiming the role of apex predator, much as the lion reigns supreme in the African veld.
But a new census of all dinosaur skeletons unearthed over a large area of Eastern Montana shows that Tyrannosaurus was too numerous to have subsisted solely on the dinosaurs it tracked and killed with its scythe-like teeth.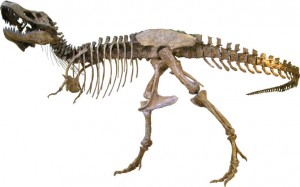 Image right: The cast of a Tyrannosaurus rex on display in UC Berkeley's Valley Life Sciences Building. The original fossil skeleton from Montana's Hell Creek Formation is in the Museum of the Rockies in Bozeman, Mont. (Randy Irmis)
Instead, argue paleontologists John "Jack" Horner from the Museum of the Rockies and Mark B. Goodwin from the University of California, Berkeley, T. rex was probably an opportunistic predator, like the hyena in Africa today, subsisting on both carrion and fresh-killed prey and exploiting a variety of animals, not just large grazers.
"In our census, T. rex came out very high, equivalent in numbers to Edmontosaurus, which many people had thought was its primary prey," says Horner, curator of paleontology at the Museum of the Rockies in Bozeman, Mont., and Regents Professor at Montana State University. "This says that T. rex is not a cheetah, it's not a lion. It's more like a hyena."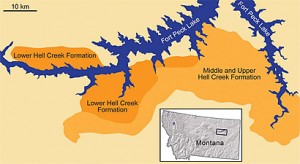 Map: The new dinosaur census covers a large area around Fort Peck Lake in Montana, where the Hell Creek Formation deposits are exposed over about 1,000 square kilometers.
"This putative apex predator is as abundant in the upper layers of the Hell Creek Formation as the herbivores, its reputed primary food source," adds Goodwin, a curator in UC Berkeley's Museum of Paleontology and assistant director of the museum. "And it's even more plentiful in the other two-thirds of the formation. This supports the view that T. rex benefited from a much wider variety of food sources than live prey."
The dinosaur census in the Hell Creek Formation of Montana, which dates from 65-95 million years ago, was begun in 1999 by Horner and Goodwin with the financial and occasional field support of Nathan Myhrvold, former chief technology officer for Microsoft Corp. The results, authored by Horner, Goodwin and Myhrvold, were published Feb. 9 in the open-access journal PLoS ONE.
Normally, Goodwin said, top predators are one-third or one-fourth as abundant as their prey, because of the larger energy needs of carnivores. Opportunistic hunters like the hyena, however, can be twice as abundant as the top predators. Horner suggests that juvenile and young adult T. rex may have been primarily flesh eaters, while the older adults, which developed proportionally larger, bone-crushing teeth as they aged, also consumed the bones and marrow of their prey.
The work was supported by donations from James Kinsey, Catherine B. Reynolds and Homer Hickam, as well as Intellectual Ventures, the Windway Foundation, the Smithsonian Institution and the University of California Museum of Paleontology.—Robert Sanders, University of California, Berkeley