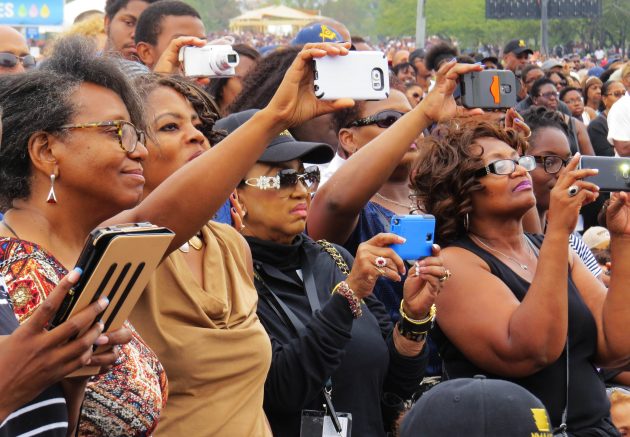 Today, Saturday Sept, 24, 2016 in the morning, the Smithsonian's National Museum of African American History and Culture officially opened on the National Mall in Washington, D.C. Participants in the ceremony included President Barack Obama, former President George W. Bush and Mrs. Laura Bush, Chief Justice John G. Roberts Jr., Smithsonian Secretary David Skorton, Rep. John Lewis and Lonnie G. Bunch III, the museum's founding director.
Obama, the final speaker, First Lady Michelle Obama and members of the Bonners, a four-generation African American family, rang the Freedom Bell, a 500-pound, cast-steel bell from the First Baptist Church of Williamsburg, Va., to officially mark the museum's opening. Bells then rang throughout Washington, D.C.
In addition to 7,000 seated guests on the museum grounds, tens of thousands of people gathered around the Washington Monument to watch the ceremony on Jumbotrons and cheer the museum's opening.
A video of the ceremony can be seen here:
Below are a few photographs of the many celebrants of all ages who came to the National Mall this morning to witness the historic opening of this newest Smithsonian museum. (Photos by John Barrat)