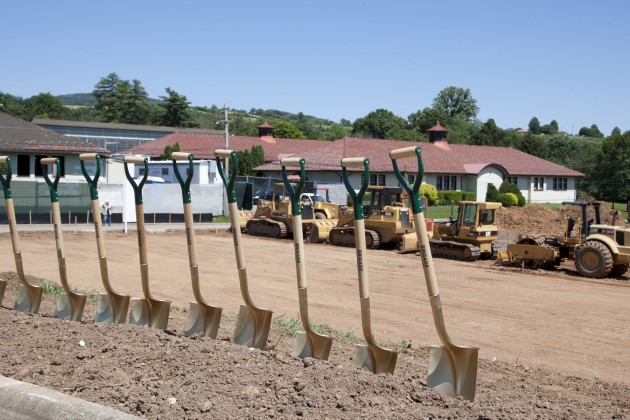 Scientists and educators from the Smithsonian Conservation Biology Institute and George Mason University broke ground June 29 on a green-design conservation complex that embodies the concept of the living classroom. Since October 2008, the Smithsonian–Mason Global Conservation Studies Program has trained future conservationists with an interdisciplinary and interactive program at SCBI headquarters, the Smithsonian National Zoological Park's 3,200-acre facility in Front Royal, Va. There, undergraduate, graduate and professional students from the U.S. and abroad participate in courses taught by prominent scientists and educators from the Zoo, Mason and other institutions.
The Smithsonian–Mason Program began with 15 undergraduate students in fall 2008. When the expansion is complete in fall 2012, SCBI Front Royal will be able to accept 60 undergraduate students and 60 graduate students and professionals.
"There is no greater goal than to invest in educating and training the next generation of conservation professionals," said Steve Monfort, director of SCBI and co-founder of the Smithsonian–Mason Program. "By improving science-related education and engaging students in ways that provide them with hands-on experience, we're fulfilling that goal."
At the groundbreaking ceremony, Wayne Clough, Secretary of the Smithsonian, and Alan G. Merten, president of George Mason University, spoke about the expansion project. Two graduates of the Smithsonian–Mason program, Michelle Waterman and Joanna Lambert, offered insight about their experiences as participants of the program. Also in attendance at the ceremony were Eva Pell, the Smithsonian's Under Secretary for Science; Roger Sant, Regent of the Smithsonian; Dennis Kelly, director of the Smithsonian's National Zoo; Monfort; and Alonso Aguirre, executive director of the Smithsonian–Mason Program.
"We are extremely excited to literally build upon this unique partnership between two highly regarded institutions," said Aguirre. "These new facilities will allow our students to live and learn in a collaborative environment where conservation is happening every day."
The three new buildings will be LEED-certified Gold Standard and will model the best green practices, including green-roof technology, geothermal heating and cooling, composting kitchen waste, reuse of rainwater and storm-water management. The space will house classrooms, laboratories, dining and events facilities, dormitories and study halls.
SCBI serves as the umbrella for the Smithsonian's conservation science. The priority for SCBI's animal collection is veterinary and reproductive research. By living in controlled environments, the 22 species—most of them little-known and endangered birds and mammals—provide ideal subjects for intensive study and the rapid acquisition of urgently needed information. Findings from these studies provide critical information for the management of captive populations and valuable insights for the conservation and management of wild populations.
For information about the Smithsonian–Mason Global Conservation Studies Program, visit the National Zoo's website: https://nationalzoo.si.edu/SCBI/ConservationEducation/Smithsonian-Mason/default.cfm.