Last month, a team of ichthyologists sponsored by the Smithsonian's National Museum of Natural History performed the first survey of the fish diversity in the Cuyuni River of Guyana. Upon their return, they needed to identify the more than 5,000 specimens they had collected in less than a week's time in order to obtain an export permit. Faced with insufficient time and inadequate library resources to tackle the problem on their own, they instead posted a catalog of specimen images to Facebook and turned to their network of colleagues for help.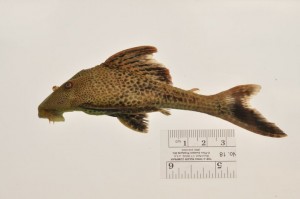 Image right: A fish identified as Hypostomus taphorni, from the Guyana expedition.
In less than 24 hours, this approach identified approximately 90 percent of the posted specimens to at least the level of genus, revealed the presence of at least two likely undescribed species, indicated two new records for Guyana and generated several loan requests. The majority of people commenting held a Ph.D. in ichthyology or a related field, and hailed from a great diversity of countries including the United States, Canada, France, Switzerland, Colombia, Peru, Venezuela, Guyana and Brazil.
By quickly tapping the collective expertise of their social network to help with the preliminary identification process, the expedition members were able to sort, pack and export the specimens to Washington, D.C. in a timely manner. The Facebook identifications also will speed the cataloging process and help make the material available for loan and study as quickly as possible.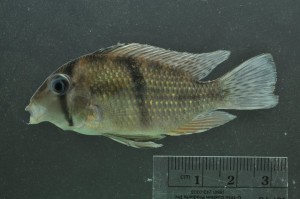 Image left: A fish identified as Guianacara cuyunii from the Guyana expedition.
Such crowdsourcing of identifications would not have been possible five years ago, but increased internet access across South America and the massive recent growth of social networks has made tapping the world's collective knowledge easier than ever. Based on this experience, Facebook offers a remarkably efficient free tool that can accelerate taxonomic identification substantially. —Brian Sidlauskas, ichthyologist Oregon State University, expedition leader and research collaborator of  Richard Vari, National Museum of Natural History, Department of Vertebrate Zoology. The expedition mentioned in this article was funded by the Natural Museum of Natural History Biological Diversity of the Guiana Shield Program and the Department of Vertebrate Zoology.