By Marilyn Scallan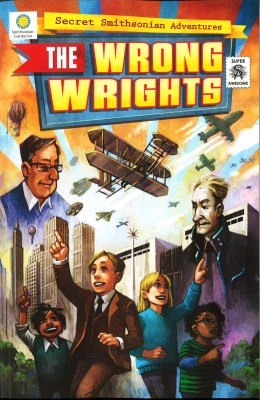 In the first volume of the Secret Smithsonian Adventures graphic-novel series from Smithsonian Books, The Wrong Wrights, four middle-school kids visit the Smithsonian's National Air and Space Museum to find a completely different museum than the one they expected.
On a field trip to the museum, Dominique, Eric, Josephine and Ajay discover that all the airplanes and space ships are gone—in their place are balloons, blimps and dirigibles. Using their knowledge of science and history, the friends set out to solve the mystery of what is going on and who is at the bottom of it.
Al, a museum "fabrications specialist" at the museum leads them back in time to Manhattan's Battery Park 1909 where early aviators are preparing to demonstrate their flying machines. A computer named "Smitty" (Smithsonian Archive Interface Facilitator) guides the group, and they meet-up with aviation pioneers Orville and Wilbur Wright, Glenn Curtiss and Thomas Scott Baldwin. They also meet Katharine Wright, Orville and Wilbur's sister, who assisted her brothers with their experiments.
As the kids foil those who are trying to alter aviation history, they learn about aerodynamics and other aviation principles. Their work returns the Air and Space Museum to normal with its display of airplanes and space ships, and the Wright brothers' place in history is restored.
This colorful book is written by Steve Hockensmith and Chris Kientz and illustrated by Lee Nielsen. Geared to 9-to-12-year-old readers and their parents, grandparents, teachers and librarians, The Wrong Wrights is the first graphic novel in a Smithsonian Book's series that will include adventures set in the Smithsonian's National Museum of Natural History (Claws and Effect) and the National Museum of American History.