Dozens of biographies have been written about Charles Darwin, one of the most influential thinkers in history. Now, for the first time, his life is portrayed pictorially in an illustrated biography in graphic novel-style for all ages to enjoy—especially younger readers.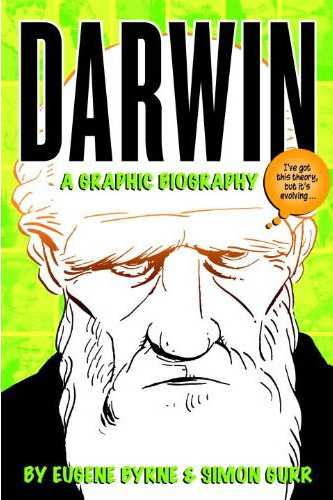 Darwin's 1859 groundbreaking treatise On the Origin of Species established his theories of evolution and natural selection. Yet he was not born this legendary figure of scientific achievement—he began as an English boy who was ordinary in most ways, except for his exceptional curiosity.
Darwin: A Graphic Biography, released by Smithsonian Books in celebration of Darwin's birthday Feb. 12, tells the story of his little-known youth. It is especially appropriate for ages 10 to 15 because its expressive text and illustrations draw readers into Darwin's world and along for his adventures, including a "beetling" expedition and his legendary travels through Africa, South America and Australia. Readers will see the tirelessly inquisitive young boy learn and grow, and they will get to know the person Darwin was before he became a great scientist.
Darwin's story is even presented by apes. The "Ape TV" feature used to frame the narrative gives readers basic facts about evolution that are presented in a humorous light. The graphic-novel format allows readers to immerse themselves in the scientific world of the 1800s and place Darwin's accomplishments in that context. The book explains how evolutionary theory changed before, during and after Darwin's life and how monumental Darwin's contribution to science was.
Readers will learn that Darwin's patience, curiosity and perseverance allowed him to become successful. Darwin: A Graphic Biography conveys the role of trial and error in science and the importance of finding out what one wants to explore in life.
About the Authors
Eugene Byrne is a freelance journalist whose work focuses on history and has been published in many periodicals, including BBC History. Simon Gurr is a cartoonist and illustrator who has been producing Web and print comics with a focus on educational illustration for more than 20 years. Darwin: A Graphic Biography is the third historical graphic novel that Byrne and Gurr have collaborated on.
To purchase Darwin: A Graphic Biography online please click here.