In 1909, naturalist Dr. Edgar A. Mearns joined Theodore Roosevelt and scientists from the Smithsonian and New York's American Museum of Natural History on an expedition to East Africa. Mearns carefully recorded the plant specimens collected during this fascinating "Smithsonian African Expedition" in one of two field note books. Field book entry 1299, for example, is the species Acacia farnesiana, a member of the legume family.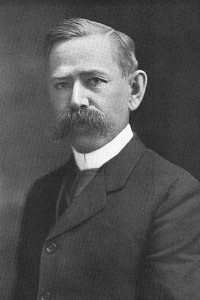 Image right: Edgar A. Mearns
Now housed at the Smithsonian's National Museum of Natural History, these volumes, along with an extensive collection of similar primary source field books, are receiving the attention they deserve thanks to funding from the Hidden Collections program of the Council on Library and Information Resources and the National Park Service's Save America's Treasures programs.
The Council on Library and Information Resources funding supports the Field Book Project, a new joint initiative between the Natural History Museum and the Smithsonian Institution Archives that will offer a single, easily accessible online location where scholars and others can find and access scientific field books held in Smithsonian collections. Save America's Treasures funding supplements these efforts by supporting conservation of these historic documents.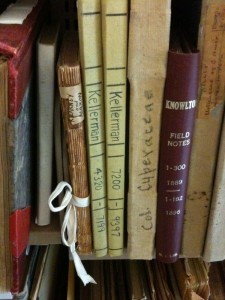 Image left: Field books housed in the Department of Botany, National Museum of Natural History.
The Smithsonian houses thousands of field books, unpublished journals, notes, and images related to field research in biology, most falling into the category of "hidden" collections, or collections for which little or no documentation exists. Information within these items varies greatly, but can include lists of specimens collected, specimen descriptions, photographs, and sketches. Besides providing rich historical information these items often provide scientific data about the context in which specimens were collected, the habitats in which they were found, as well as meteorological events and environmental measurements at the time of collection.
As a collaborative, cross-disciplinary project, the Field Book Project responds to the need for easier, in-depth access to these original source materials. Cataloging on the Field Book Project will leverage existing standards in libraries, archives, and natural history museums for sharing this rich biodiversity information with researchers and the general public. The scope of the Field Book Registry currently includes Smithsonian research related to botany, entomology, invertebrate zoology, and vertebrate zoology.
The long term goals for the Field Book Project are to open the Registry to include field book content contributed by museums and research institutions from throughout the country. The Field Book Registry will be a tool for the entire biodiversity community and the Project is working closely with stakeholders to develop a system that will be easy to adopt and respond to research needs.
A prototype catalog has been developed and internal testing of the proposed cataloging process is currently underway. Anyone interested in viewing test catalog records, please contact Carolyn Sheffield at sheffieldc@si.edu. To learn more about the Field Book Project, please visit its home page at: http://mnh.si.edu/rc/fieldbooks/index.html, or the Field Book Project Blog at http://nmnh.typepad.com/fieldbooks/.