Unlocking the mysteries of animal migration through precise, near real-time tracking can solve major conservation challenges and transform wildlife science worldwide. For the past year, scientists at the Smithsonian Conservation Biology Institute have been working with aviation and aerospace leaders, led by Airbus to launch the "Partners in the Sky" program using aviation and aerospace technology to create a first-of-its-kind global animal-tracking system.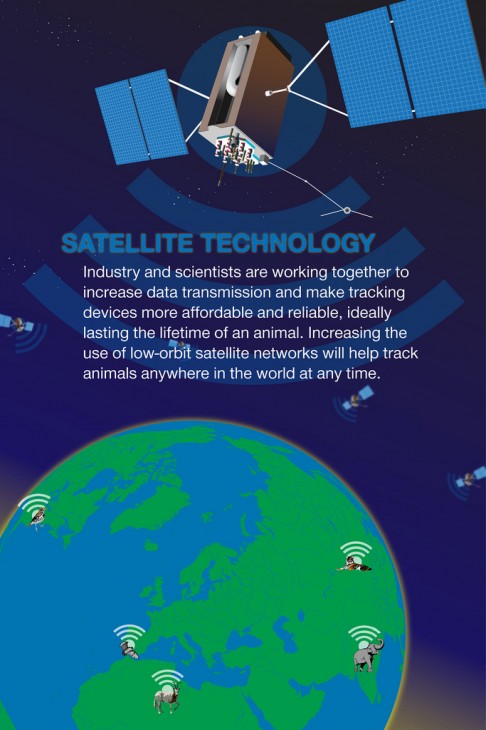 Movement of animals is essential to maintaining ecosystems and ultimately a healthy planet. Migrations are common among more than 6,000 species and occur almost everywhere in the world, often spanning thousands of miles. More than 90 percent of the globe's wildlife is too small to track. For larger species like elephants, conservation-tracking technologies are prohibitively expensive, have high failure rates and are limited in range and resolution.
SCBI scientists are leaders in studying animal movement and its consequences for species, communities and ecosystems. A comprehensive tracking program that SCBI can share across the conservation community has enormous potential. Integrating that information with key environmental and satellite data from other sources, potentially through one platform, will help scientists pinpoint what drives animal movement. The worldwide conservation community could track animals over their lifetime, discover unknown migration routes, understand the spread of infectious disease, reduce human-animal conflicts, combat poaching, pinpoint the root causes of migratory bird population declines and save species from extinction.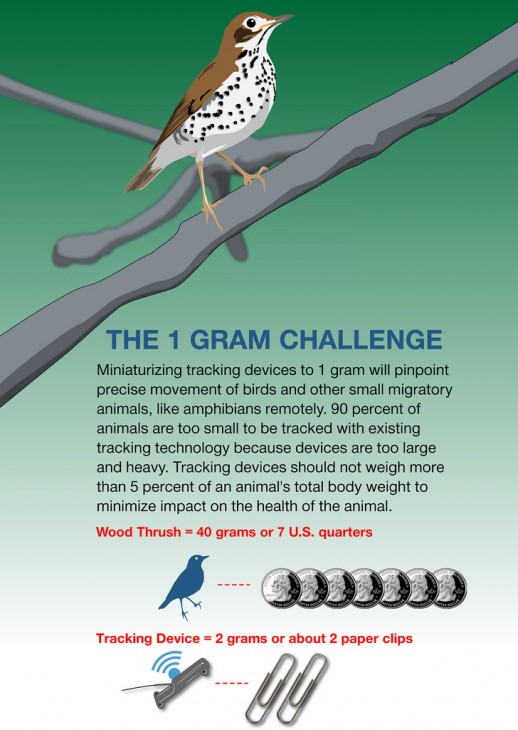 SCBI scientists identified specifications for the ideal tracking system and presented them to the Partners in the Sky consortium—Airbus, Intel, Iridium Communications Inc., Joubeh, Lockheed Martin, Michael Goldfarb Associates, Raytheon, Rockwell Collins and United Airlines. Pennsylvania State University's Applied Research Laboratory joined the effort thanks to a donation from the Rick Bowe and Karen Nemeth Charitable Fund. Together with the Partners and Penn State's ARL, SCBI scientists charted a course of action that includes four key parts:
•The 1 Gram Challenge. Miniaturizing tracking devices to 1 gram or less will help pinpoint precise movement of birds and other small migratory animals, like amphibians remotely. Existing devices are too large and heavy to track small animals. A tracking device should not weigh more than 5 percent of an animal's total body weight to minimize impact on the health of the animal.
•Satellite Technology. Industry and scientists are working together to increase data transmission and make tracking devices more affordable and reliable, ideally lasting the lifetime of an animal. Increasing the use of low-orbit satellite networks will help track animals anywhere in the world at any time.
•Commercial Aircraft. Aircraft equipped with antennae and receivers will collect tracking data from transmitter-tagged wildlife on passenger routes and automatically download information to users on the ground. Partnering directly with commercial airlines to use existing transmitters and leverage a network of this scale is unprecedented in animal tracking.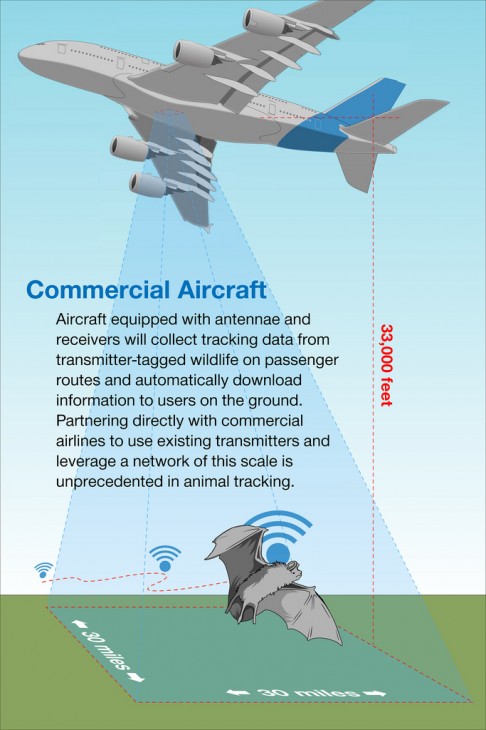 •Big Data. By integrating tracking with environmental satellite data, scientists will be able to predict why, how, where and when animals move. These movement models can reveal connections between important conservation issues, such as climate effects on animal movement, infectious disease spread and human-wildlife conflict.
Together with the Partners, SCBI will explore working with existing wildlife programs to integrate tracking data into one comprehensive platform.
The Partners in the Sky program is still in its beginning stages: expanding the markets to make the satellite solution affordable; developing high-power, 1 gram tracking devices; engineering, building, and certifying aircraft antenna to pick up tagged wildlife on overfly routes.