The National Museum of Natural History will permanently display the Dom Pedro Aquamarine, which is the largest single piece of cut-gem aquamarine in the world, beginning Dec. 6. It joins an illustrious cast of famous gemstones already on exhibit in the Janet Annenberg Hooker Hall of Geology, Gems and Minerals such as the Hope Diamond and the Marie Antoinette earrings. Jane M. Mitchell and Jeffery S. Bland donated the piece. The quality of the original crystal and its size, exquisite blue-green color and distinctive cut make it an exceptionally rare gem.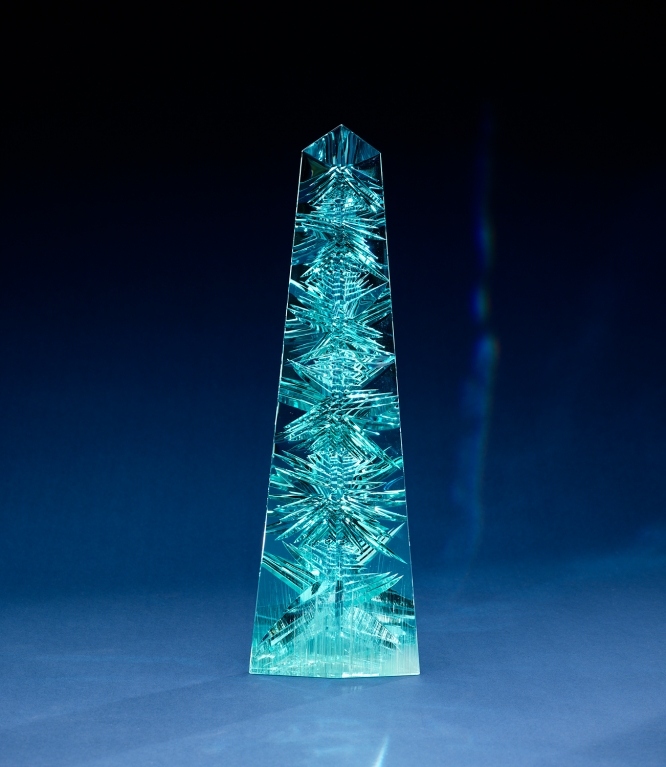 "The Dom Pedro Aquamarine represents a combination of an extraordinary crystal of rare clarity and rich color with the unique skills of a celebrated artist," said Jeffrey Post, curator of the National Gem and Mineral Collection at the museum.
Mined from a Brazilian pegmatite in the late 1980s, the magnificent aquamarine was named for Brazil's first two emperors, Dom Pedro Primeiro and his son, Dom Pedro Segundo. Before cutting, the portion of the beryl crystal from which the obelisk-shaped gem was fashioned measured 23.25 inches long and weighed nearly 60 pounds. The obelisk, designed by world-renowned gem artist Bernd Munsteiner, stands 14 inches tall, measures 4 inches across the base and weighs in at 10,363 carats or 4.6 pounds. These impressive dimensions render the Dom Pedro the largest cut-and-polished gem aquamarine known. A pattern of tapering "negative cuts" faceted into the reverse faces of the sea-blue obelisk serves to reflect the light within the gem, giving the piece surprising brightness and sparkle. With the proper lighting, this remarkable sculpture appears to be illuminated from within.
Munsteiner, the "Father of the Fantasy Cut," is considered one of the greatest gem artists of the 20th century. He combines traditional methods with dynamic modern forms to create gem sculptures. Munsteiner was born to a family of gem carvers, and his work is the manifestation of an art form that has been passed from generation to generation. He became an apprentice in the family trade at the age of 14 and later went on to become a student at the School of Design in Phorzheim, Germany, where he graduated as a designer of precious stones and jewelry. It was in school that Munsteiner was first challenged to take the traditional cameo to a new form, and he has been stretching boundaries and defying traditional methods ever since. His faceting technique known as "Fantasy Cuts" has inspired a modernization of gem art creation, and his innovative style is exemplified in the Dom Pedro Aquamarine. Munsteiner spent four months meticulously studying the crystal and an additional six months carving, polishing and faceting to create this unmatched work of art.
The Dom Pedro Aquamarine joins the Smithsonian's famous gem and mineral collection of more than 10,000 gems in addition to 350,000 mineral specimens. The Smithsonian's gem and mineral collection is one of the largest of its kind.