Twenty three researchers led by University of Florida by scientist Gustav Paulay are participating in an expedition in March to survey the biodiversity of the Gulf of Mexico's ocean floor.
Funded by BP through the Florida Institute of Oceanography, the scientists will make the 10-day trip aboard the institute's 115-foot research vessel. The divers, scientists and photographers will document hard bottoms of Florida, from the Keys to the Panhandle, to gain a better understanding of these sponge- and coral-dominated communities.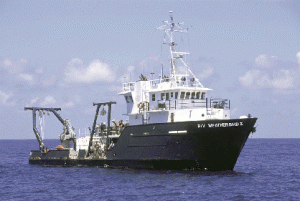 Image right: The RV Weatherbird II, a research vessel of the Florida Institute of Oceanography.
The expedition is the most comprehensive biodiversity study of the hard grounds along the west Florida shelf and includes researchers from other Florida institutions, as well as Old Dominion University, the Virginia Museum of Natural History and the Smithsonian Institution. Researchers plan to repeat the survey next year to observe short-term changes in biodiversity. The data will be useful for science as well as the fishing industry.
"Certainly we will potentially notice effects from the oil spill, but the primary issue is that we have an oil spill in our backyard and we have a very limited understanding of the marine communities and diversity of organisms out there," said Paulay, curator of malacology at the Florida Museum of Natural History on the UF campus.
Scientists will post initial findings and photographs on the Florida Museum's invertebrate zoology blog, spinelessscience.blogspot.com. Further results will be posted online as the information is analyzed.
The trip will be carried out in two legs, with 14 researchers on each segment. The 194-ton R/V Weatherbird II will travel south from St. Petersburg to the Florida Keys March 4-9, then north from St. Petersburg to the Panhandle March 10-14. Researchers will focus on two areas: a quantitative assessment of marine life and an observational survey of the species found.
Divers will venture 30 to 100 feet underwater to reach the hard-bottom communities, which in Florida are typically fossilized limestone reefs and beds, with a thin sand veneer in places. These support large, attached animals like sponges, corals, sea fans, sea squirts and sea weeds giving structural complexity to the bottom.–-University of Florida