The Smithsonian Research Online program recently surpassed the mark of 10,000 publications in the Digital Repository. This collection of digital publications by Smithsonian staff represents a broad review of research done by researchers at the Institution. Each year the program collects information on nearly 2000 publications by Institution researchers many of whom later contribute their article's corresponding digital reprint. This milestone was achieved when the paper by Ben Hirsch and Jesus Maldonado, "Familiarity breeds progeny: sociality increases reproductive success in adult male ring-tailed coatis (Nasua nasua)"was deposited into the collection.

The SRO consists of two basic components: a list of publications authored by Smithsonian researchers and affiliates, and a corresponding digital repository which contains the actual article or chapter in electronic form. The data which SRO collects is not only used by Institution administrators for research assessment purposes, but is also re-used by webmasters and other Smithsonian offices for reports, presentations and other public information services.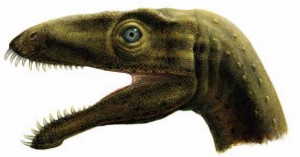 Image right: An illustration from the scientific paper: "New materials of Masiakasaurus knopfleri Sampson, Carrano, and Forster, 2001, and implications for the morphology of the Noasauridae (Theropoda: Ceratosauria."

These electronic versions of peer-reviewed, scholarly journal articles are therefore made much more widely available to the worldwide research community thanks to indexing and search capabilities provided by the Repository in conjunction with scientific web portals. In addition to finding specific articles authored by Smithsonian scholars, the Digital Repository indexes the full text of each publication, thereby allowing search engines to retrieve these publications based on technical or geographic terms which may not appear in the title of the publication.
Shortly after adding the Hirsch and Maldonado paper, the Repository then added a paper by National Museum of Natural History Paleontologist Matthew Carrano, "New materials of Masiakasaurus knopfleri Sampson, Carrano, and Forster, 2001, and implications for the morphology of the Noasauridae (Theropoda: Ceratosauria)." Part of Smithsonian Contributions to Paleobiology, the addition of this item to the Repository ensures that Smithsonian Scholarly Press publications are archived in digital form for long-term public access.–Alvin Hutchinson, Smithsonian Institution Libraries