The Smithsonian's National Museum of American History recently accepted a donation of objects related to 75 years of auto-safety innovation and initiatives from 10 individuals, companies and organizations, including General Motors, Volvo, the American Automobile Association and the National Highway Traffic Safety Administration.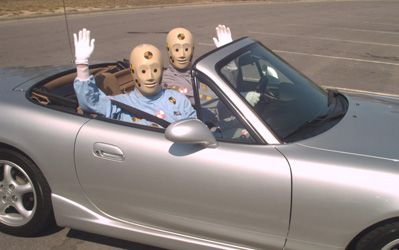 Among the objects accepted into the collection are the original "Vince and Larry" crash-test dummy costumes that appeared in the Safety Belt Education campaign nationwide from 1985 through 1998.
The campaign was developed to encourage vehicle passengers to use safety belts, and featured Vince and Larry, who dramatized what could happen when you don't wear a safety belt. The public service advertisements included the tagline, "You can learn a lot from a dummy…Buckle your safety belt."
The objects became part of the museum's permanent collection that illustrates the evolution of automobile safety and research. The objects join nearly a dozen previously acquired artifacts, including a 1948 Tucker sedan with advanced safety features and an after-market seat belt manufactured by the Selfgard company in the 1960s.
"Millions of lives have been saved on America's roadways thanks to the combined efforts of lawmakers, automakers, engineers and safety advocates," said Brent D. Glass, director of the museum. "This research collection offers a tangible record of these efforts, as well as inspiration to future generations of American innovators, historians and all automobile lovers." –Jessica Porter