The Smithsonian's National Museum of Natural History recently acquired the donation of a stunning handcrafted storage basket from Botswana made by Mashe Mbombo, a member of the Etsha women's craft cooperative.  The basket was a gift from the Art and Crafts Programme of Anglo American, PLC.
Basket making by Botswana women has a long history and it continues to be a robust craft tradition.  During the last three decades it has become increasingly well known in the international craft market.
Etsha Weavers Group, a Botswana craft group made up of 24 skilled basketmakers, has played a pivotal role in bringing attention to Botswana basketry as a unique art form.
"This contemporary Botswana basket is an important addition to the Smithsonian's collection," says Mary Jo Arnoldi, curator, African ethnology, at the Natural History Museum. "This piece provides an updated visual timeline in the collection showcasing both the continuity and the evolution of basket making in Botswana." As an integral part of the Botswana culture, baskets have been used for a variety of purposes. Closed baskets with lids, like the recently acquired piece, are used for storing grain and seed. Large, open bowl shaped baskets are used by the women for the transportation of goods and smaller, plate shaped baskets are used for winnowing grain after it has been processed.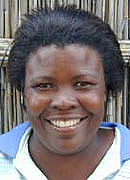 Basket makers in Botswana use a method called coiling to create their modern baskets. The process of making a coil basket can take up to six weeks to complete. Basket makers use a thick bundle of palm fiber, grass or vine to begin the inner coil. The next step is to pierce a small hole into the coil and begin wrapping strips of palm around the core of the basket. This process is repeated until the basket reaches the desired size – designs are created by weaving strips of dyed palm into the basket pattern. Arnoldi notes that, "The National Museum of Natural History Anthropology collection had only five smaller plate shaped basketry trays from Botswana, all collected in rural villages prior to the 1960s. We certainly welcome the addition of this large and beautifully made storage basket to the collections." –Jessica Porter