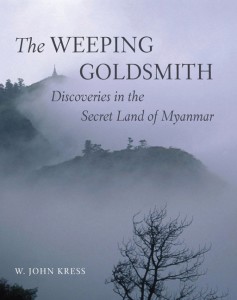 Adventurous travel and discovery of rare, beautiful and scientifically unknown plants in the little-known country of Myanmar (also known as Burma) are the cornerstones of a new popular press book, The Weeping Goldsmith: Discoveries in the Secret Land of Myanmar, by W. John Kress, curator and research scientist in the Department of Botany at the Smithsonian's National Museum of Natural History. The 288-page book, featuring more than 200 color photographs of exotic plants, landscapes and Buddhist temples taken by Kress, is published by Abbeville Press and due out in bookstores Sept. 29.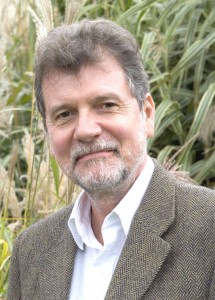 Photo: W. John Kress
The Weeping Goldsmith, written as a first-person narrative, follows Kress over the course of nine years as he surveys Myanmar's teak forests, bamboo thickets, timber plantations, rivers and mangroves to document its incredible botanical biodiversity. Home to some of the world's most striking landscapes, Myanmar is enchantingly remote, nourishing thousands of exotic plant and animal species and a range of unique indigenous cultures.
Kress' travels included study of several plant species not researched since their discovery more than a century ago. Among his many finds was "the weeping goldsmith," a ginger flower and the namesake of his book. Legend has it that the local goldsmiths were brought to tears by the blossom because their creations paled in comparison to its beauty.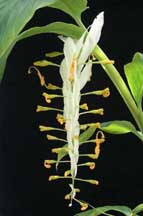 Photo: "Padeign gno" is the Burmese name for this flower. It's name literally means "weeping goldsmith."

"The weeping goldsmith was one of the most beautiful flowers I found in Myanmar, yet it had never been scientifically described," Kress says. "This country, which has been neglected by outsiders for so long, is a lovely land with a rich history and culture as well as a unique and vast biodiversity." The people and culture of Myanmar are highlighted in the book through Kress' understanding of their country's flora, natural habitats and human-dominated environments.
The book includes excerpts from Kress' journals that serve as counterpoints to the accounts of earlier plant explorers. In addition to Kress' photographs, the book includes 30 archival images of Burma taken by these past explorers.