Two closely related bee species: one from Coiba Island in Panama and another from northern Colombia have been discovered by David Roubik, a staff scientist at the Smithsonian Tropical Research Institute in Panama. Both bees descended from of a group of stingless bees that originated in the Amazon some 22 million years ago and moved into Central America. Their presence on Coiba and Rancheria Islands, and their absence from the nearby mainland, are mysteries that may ultimately shed light on Panama's history and abundant biodiversity.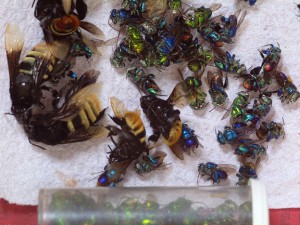 Image left: In this group of bees collected by Davie Roubik, Melipona insularis, the new bee species from Coiba Island in Panama, are the bees with the yellow hairs on their abdomen.
At almost 200 square miles, Coiba Island is the largest offshore island along the Pacific coast of Latin America. The new bee from Coiba was named Melipona insularis, and is the first species in its group to be found on islands near the mainland.
"These forest bees have a small range over which they can establish new nests and colonies," says David Roubik, staff scientist at the Smithsonian Tropical Research Institute. "They can't establish a new nest across more than a short stretch of open water because workers from the original nest have to build and supply the new nest before the new queen moves in."
Thebees probably arrived on Cobia on tree-cavity nests floating on mats of vegetation or through a land connection that once existed between the island and the mainland. M. insularis is no longer found on the mainland.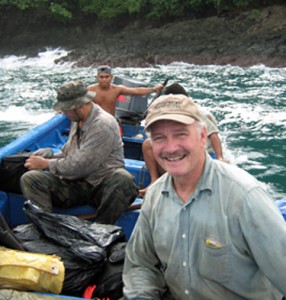 Image left: David Roubik, STRI staff scientist, making the crossing from mainland Panama to Panama's Coiba Island.
Roubik thinks the ancestors of Melipona (Melikerria) ambigua, the new species from Colombia, gave rise both to the new Coiba bee and the honeybees cultivated by Mayans in Mexico and Central America.
"Our studies of the genetic relationships between these bees tells us that they originated in the Amazon about 22 million years ago and that they moved north into Central America before 3 million years ago," Roubik says. "This actually agrees with new evidence that geologists working in the earthworks created by the Panama Canal expansion project are finding. We think that a land bridge may have formed as early as 12 million years ago."
Roubik, D.W., Camargo, J.M.F. 2011. The Panama microplate, island studies and relictual species of Melipona (Melikerria) (Hymenoptera: Apidae: Meliponini). Systematic Entomology. DOI: 10.1111/j.1365-3113.2011.00587.x