By Kenneth Brown
It was an era of "anything goes," big cars, telephones, The Roaring Twenties and massive industrial growth. It was a time when radio began to compete with newspapers to feed the public's appetite for spicy human interest tidbits. One of this era's biggest heroes, notorious for his life on and off the baseball diamond, was Babe Ruth.
By the 1920s, Ruth had broken many baseball records while piling up antics covered faithfully in the press and followed by all. In 1921 he hit 59 home runs as a New York Yankee. Off the field he might rush from a police station and pull on his jersey just in time for a game or to visit sick kids in a hospital. In photographs, Ruth was arguably the most portrayed American from the beginning of his professional career in the major leagues in 1914, to his death in 1948.
As a tribute to Ruth, the Smithsonian's National Portrait Gallery is exhibiting some 40 prints, photographs and other memorabilia related to Ruth in "One Life: Babe Ruth," an exhibit open through May 21. "Much of Babe Ruth's legendary allure centers on his flamboyant personality, which was as big as any of his records," Historian James Barber, the exhibit curator, says.
Here from the exhibit are seven facts about Babe Ruth:
1. Babe's nicknames
The Bambino
The Caliph of Clout
Babe
Sultan of Swat
Jidge
The Behemoth of Bust
The Great Bambino
The Big Bam
2. Ruth underwear and chewing gum 
He not only left his mark on the field, he endorsed an amazing list of products. According to Barber "he endorsed many products which would often use his name and picture; such as toys, candy, chewing gum, cereal, smoking tobacco, books, and even his own brand of "Babe Ruth All America Athletic Underwear." An underwear packaging-box is in the exhibit.
3. The Babe kept his memory alive of being sent at age seven to an orphanage and reform school.
"Babe Ruth's generosity was great and noted by many people," Barber points out. In the exhibit is an enlarged photograph of Ruth visiting an orphanage at St. Ann's Home in Tacoma, Wash., Dec. 7, 1926. "He routinely visited orphanages and sick kids in hospitals throughout the country bringing gifts such as chocolate candy, paper party whistles, and signed baseballs."
4. Ruth was widely depicted and widely recognized in caricature.
Caricaturist Jack Davis captured Babe Ruth whimsically with his original watercolor drawing of the slugger sitting atop of Yankee Stadium, the "House that Ruth Built," which appeared on the cover of Time Magazine April 26, 1976, to mark the reopening of the newly renovated stadium. Artist, Paolo Garretto, made the drawing of Ruth above, selected by Barber for the exhibit from scores of others. A second caricature in the exhibit is by William Auerbach-Levy, below.
5. Ruth's bats by Hellerich and Bradsby Co.
In the exhibit is a 'Louisville Slugger' from the Hillerich and Bradsby Co., which started making baseball bats in 1880. Ruth's bats were among the heaviest. His large #2 model, from June 21, 1924 weighed between 36 to 38 ounces. For the next five seasons, 1927 thru 1931, all bats on record ordered by Ruth, were between 35 to 36 inches long, and weighed between 38 to 42 ounces. The standard 'Louisville Slugger' made today by Hillerich and Bradsby is 32 to 34 inches.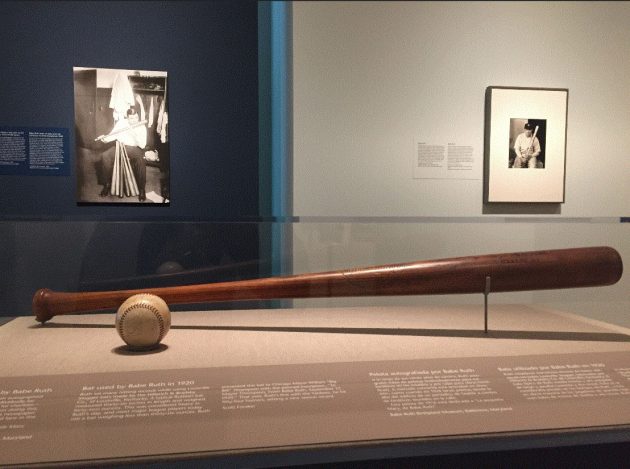 6. The record Ruth was proudest of and which lasted more than 40 years…
In 1916, Ruth won 23 games and posted a league-leading 1.75 earned run average. He also threw nine shutouts—an American League record for left-handed pitchers that still stands (it was tied in 1978 by the Yankees' Ron Guidry). However it was his World Series pitching record and not any of his hitting records that he felt showed his talents best under pressure.
In game two of the 1916 World Series, Ruth pitched all 14 innings, beating the Brooklyn Dodgers, 2-1. In game one of the 1918 World Series, Ruth, on Sept. 5, 1918 against the Chicago Cubs, pitched a 1-0 shutout. He pitched well in Game Four, and his double drove in what turned out to be the winning runs. His World Series performances in 1916 and 1918, gave Ruth a record of 29 2/3 consecutive scoreless World Series innings, a record Ruth always said he was most proud of. It was finally broken by Whitey Ford of the Yankees in the 1960s.
7. A big heart matched his big swing.
True, babe had a big swing, yet he was also well known for remembering others. Barber summarized the Babe's giving spirit "During his 20 year career, Ruth autographed thousands of baseballs—signed individually for fans at ballparks, and by the carton for charities—wherever he went. Ruth often had fun doing this, like when he threw them from atop a newspaper office in Seattle in 1924 to hundreds of fans in the street below." In the era of anything goes Ruth personified the American Hero in the hearts of his many fans.