A bonanza of adorable and scientifically important baby animals have been born at the Smithsonian's National Zoological Park this year, and they are arriving at a time when advances in animal science and veterinary medicine make it highly probable that they will stay healthier and live longer than ever before.  One of the oldest Asian elephants living in North America is the Zoo's Ambika, who is 61. Other senior citizens at the Zoo include a 19 year-old Sumatran tiger, a lioness estimated to be 17, a pair of 40 year-old flamingos and a pair of Aldabra tortoises estimated to be at least 53. (The tortoises were adults of unknown age when they arrived at the Zoo in 1956.)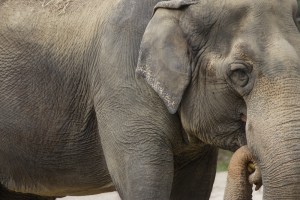 Photo: Ambika, 61, the National Zoo's Asian Elephant, is one of the oldest Asian Elephants in the United States. She came to the Zoo in 1961.  A special diet, created by National Zoo nutritionists, ensures she gets all the nutrients she needs to stay healthy.
"In the past few decades, there's been a gradual shift in focus from breeding animals to maintaining their quality of life throughout their lifetime," says Dr. Suzan Murray, head veterinarian at the National Zoo.
Successes in animal health care presents many new challenges for veterinarians. Longer life spans in captivity mean zoo animals are now experiencing age-related health problems that their predecessors never lived long enough to develop—like diabetes in cheetahs, arthritis in big cats and dental issues for coatis.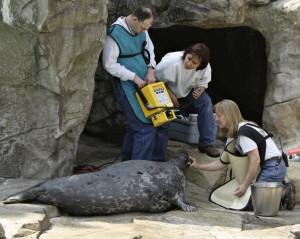 Photo:  Selkie, a geriatric 36 year-old grey seal has lived at the National Zoo for 30 years. National Zoo keepers have trained her to allow them to brush her teeth and to remain still for dental X-rays.  As in humans, dental disease for zoo animals can often lead to other health disorders.
At the National Zoo, staff nutritionists, behavior experts, geneticists, pathologists and outside specialists like dentists and cardiologists also help the veterinarians provide animals with a range of options for diagnosis and treatment. "For the animals at the Zoo, it's kind of like one-stop shopping for health care," Murray says.
Murray also credits the collaboration with keepers, who work with the animals daily, to alert her and other veterinarians on staff to signs of illness in an animal as soon as possible. Take Ambika, the Zoo's "healthy, geriatric Asian elephant." A few years ago, keepers noticed she wasn't herself. Murray and her team determined that Ambika was losing a significant amount of blood due to a uterine tumor. As one might imagine, surgery on an animal as large as an elephant presents numerous challenges. Amibka's advanced age further complicated a surgical option. Instead, working with Zoo reproductive scientists, the veterinarians developed an experimental treatment consisting of a course of vaccines that stopped Ambika's reproductive cycle and the bleeding.
Murray and her team work with zoos around the country to share information on the care of geriatric animals, such as how much ibuprofen an elephant should receive or the right dosage of chemotherapy for an elderly lioness with cancer.
"The public will always love young, active, charismatic animals," Murray says, "but not only are we committed to an animal's care throughout its lifetime, we also are learning so much from them in their senior years."—Sarah Taylor